Resident Summer School of Piping and Drumming for Beginners, Intermediates, and Advanced Students to be held at the Valle Crucis Conference Center, Valles Crucis, NC, for the Summer of 2020. Both Resident and Day Student programs available.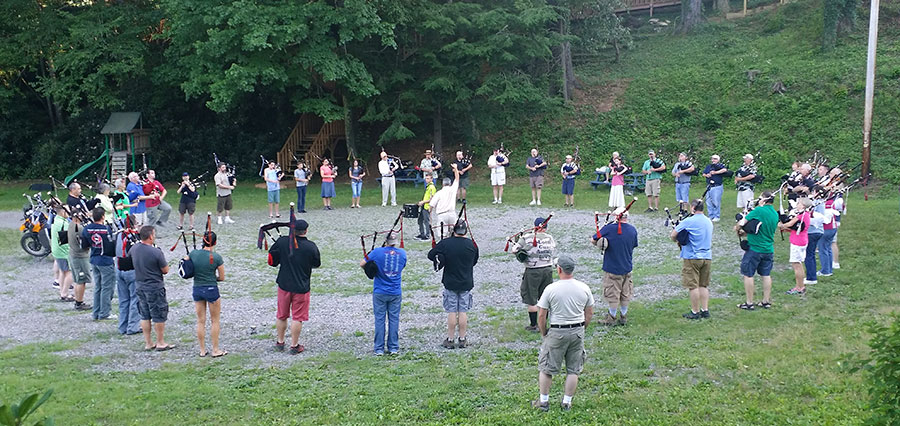 Registration closes 14 days prior to each session!
No matter how you choose to pay, please be sure to download and complete the Medical Form and Permission Slip (if under 18). The forms may be downloaded from the Application page.
PIPING SESSIONS
Session #4 (One Week):
July 12, 2020 - July 17, 2020

Instructors:

Greg Abbott, Bill Caudill, Jim Dillahey, Nick Hudson, Sandy Jones, Ed Krintz, Dan Lyden, Robert Mitchell, Cameron Nixon, Jon Shell, Lyric Todkill, Scot Walker
Session #5 (One Week):
July 19, 2020 - July 24, 2020

Instructors:

Jim Dillahey, Sandy Jones, Cameron Nixon
Session #9 (Two Weeks):
July 12, 2020 - July 24, 2020

Instructors:

SNARE, TENOR, AND BASS DRUMMING SESSIONS
PRICING
Room, Board & Tuition
One Week
$ 705.00
Two Weeks
$ 1510.00
Day Students
Per Week
$ 435.00
Day Students (including meals)
Per Week
$ 595.00
T-SHIRT/SWEAT SHIRT PRICING
T-Shirts, Sweatshirts, and Polo Shirts: To insure delivery at the school, orders MUST be received by June 1, 2020.
T-Shirts
$ 15.00
Sweat Shirts
$ 20.00
Polo Shirts
$ 23.00
[XX - $3.00 extra XXX - $4.00 extra]
NOTE: XX & XXX Size shirts are special order only.
AN ABSOLUTE NON-REFUNDABLE DEPOSIT OF $100.00 MUST ACCOMPANY REGISTRATION. BALANCES ARE DUE ONE WEEK PRIOR SESSION BEGINS.

PLEASE MAIL ALL CHECKS TO:
THE NORTH AMERICAN ACADEMY OF PIPING AND DRUMMING
107 West Pine Street
Johnson City, TN 37604-6823
ATTN: Cathleen Nixon

Notes:
For those interested in attending as day students, there are campground facilities located nearby the Conference Center ~ Phone (828) 963-6964 and speak with David Mast. For other camping motel information call the North Carolina High Country Host at (800) 438-7500.
All bedding and linens (sheets and towels) will be provided.
Three meals a day will be served from supper on Sunday through lunch on the Friday ending your session.
The Conference Center is located on NC Rt 194, 8 miles west of Boone and 6 miles east of Banner Elk. A map of the area will be included with your acceptance letter.
Airport Information
Tri-City Airport, Kingsport TN and Hickory, NC Airport are each approximately a 1.5 hour drive from Valle Crucis.
The Charlotte Airport is a 2.5 hour drive.
Airport pickup is not available